21 Oct

NEW Hand Relief Night Renewal Serum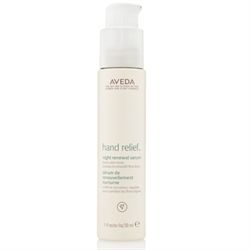 Hands are not only susceptible to the first signs of aging; they often age faster because the skin on the back of the hand is much thinner than facial skin.  Aveda's bestselling Hand Relief body care family is here to lend a hand with products, experiences and professional treatments that help your hands stay hydrated, healthy and youthful.
Restorative treatment serum helps improve the texture and tone of hands, visibly reduce the appearance of dark spots and fine, dry lines.
Functional Botanicals
*Molasse and licorice extracts help even skin tone over time
*Hydrating plant blend including andiroba oil, glycerin and organic castor oil plumps and volumizes skin to help smooth fine lines
*Salicylic acid refines skin, leaving it feeling soft and smooth
Moisturize your hands with Hand Relief Moisturizing Creme throughout the day, especially after contact with water, soaps, and detergents.  Then treat your hands with Hand Relief Night Renewal Serum every night before bed and let Hand Relief work for you 24-7.